Designing Parks That Don't Displace People
To shape equity-focused public spaces, we need to recognize how design and planning have historically been complicit with structural and infrastructural racism across the United States.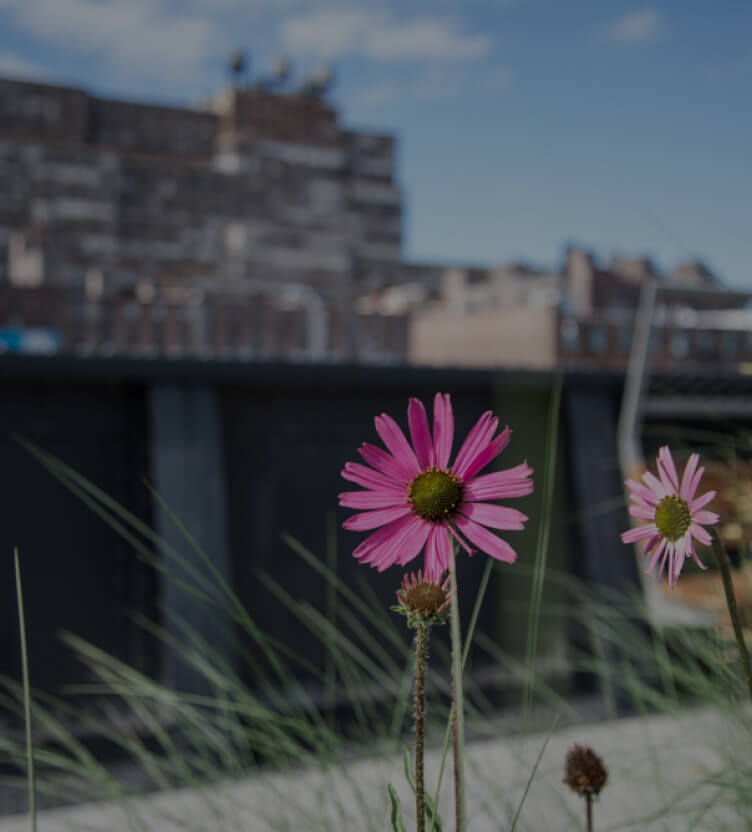 How We Define Equity
Grounded in diversity and inclusion, equity is the just and fair allocation of power, resources, and opportunities.
Recognizing
Infrastructural Racism
The 1956 Federal-Aid Highway Act (FAHA) is a clear example of how infrastructure development has led to inequity. FAHA authorized the planning and construction of tens of thousands of interstate highways. In many cases, these roads tore apart commercial districts, places of social connection, and sites with deep cultural roots. They disproportionately affected Black communities. Further, Deborah N. Archer writes in an October 2020 Vanderbilt Law Review article, "Although Black neighborhoods were the primary targets of the highways, they were not the only targets. [Latino], Native American, and Asian communities were also harmed by highway development and transportation policy." FAHA investment displaced these residents through eminent domain, isolated them with concrete walls, and exposed families to high levels of noxious emissions and toxic runoff.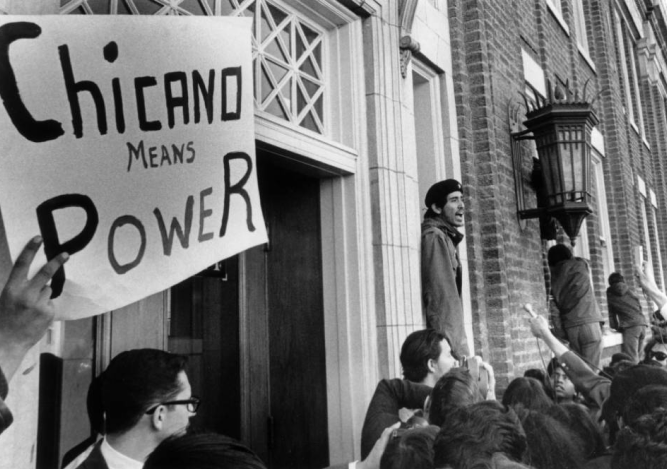 Credit: Denver Public Library, Western History Collection. Pro-Chicano movement in Colorado during the 1960s and 1970s for health equity, recreational access and more.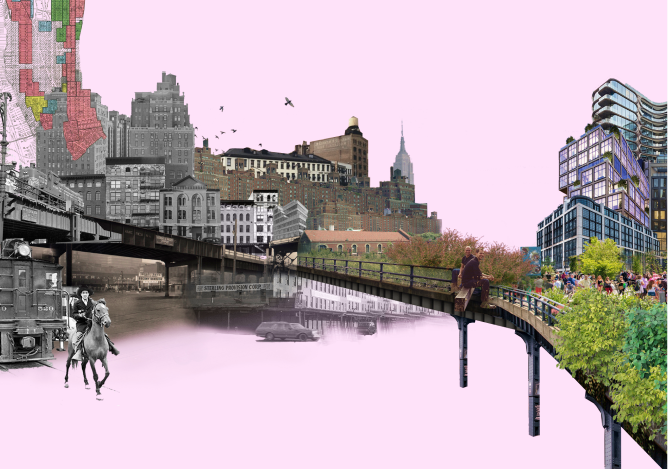 Credit: Jose Esparza, Emily Klein, Urban Design and the Color Line,Harvard Graduate School of Design. This "overlay collage" is a visual history connecting to High Line in New York City, NY.
The communities that remained often reclaimed underutilized or abandoned spaces to compensate for a lack of quality public spaces. Cities with large Black populations saw communities band together to form nonprofit organizations and housing and economic cooperatives to preserve their neighborhoods. They organized to ensure they could remain in their communities in the face of expanded development. Today, however, with city real estate prices skyrocketing, these sites of historic public- and private-sector exploitation become hot spots for "redevelopment"—yet another displacement threat. Public space policy and design has led to inequities and resident displacement too.
Public space policy and design has led to inequities and resident displacement too. Uneven investment means that every neighborhood and every community doesn't enjoy equal access to high-quality green space. Parks organizations' failure to fully consider community impact has also produced unintended consequences. For example, a popular new park becomes an "amenity" that helps to drive up real estate prices—and drive out longtime residents who can no longer afford the rent.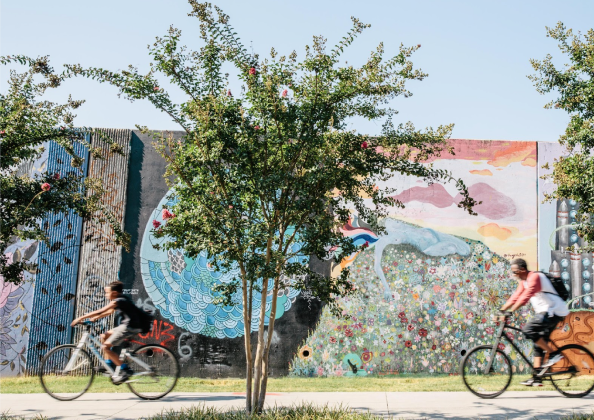 Photo by The Sintoses, courtesy of Atlanta BeltLine, Inc. Bikes strolling through the BeltLine in Atlanta, GA.
Putting Communities First
When done well, transforming underutilized infrastructure into equity-focused public spaces can unleash positive economic and social impacts for communities. The opportunities are many: We estimate there are more than 100 ongoing infrastructure reuse projects in the US alone. Of 37 High Line Network member projects, about 31 are under construction, as of late 2020. Their budgets vary widely, with the smallest around $1.2 million, and the largest $4.8 billion.
In partnership with their communities, they are also taking on the challenge of democratizing public space and addressing existing inequities in our built environments. Armed with knowledge of the past, we are more prepared to direct resources toward embedding equity into infrastructure reuse projects, honor the needs of communities, shape spaces that are true civic connectors, and spur opportunities through programs for all to enjoy.
Don't know which tools your organization should use? Find out where to begin.