The Community First Toolkit, collaboratively developed by the High Line Network with their research partners, is a resource that park organizations can use to embed equity into public spaces. Community engagement is the foundation of all the tools, and together, they offer a flexible process for ensuring that public spaces and open space projects benefit the residents and businesses they serve and avoid displacing them.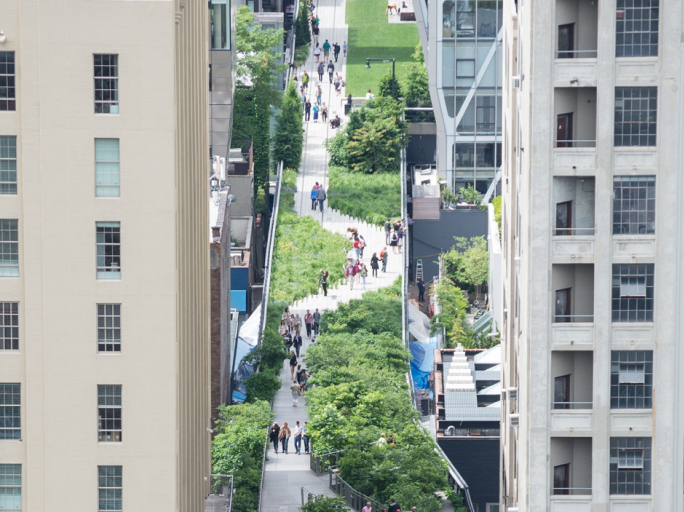 Our Method
The High Line. Credit: Timothy Schenck
Looking for ways to embed equity into infrastructure reuse initiatives, the Network partnered with two well-established research institutions: Harvard Graduate School of Design and Urban Institute. Together, with 15 park organizations in the Network, we explored the potential of public space to bring social, environmental, and economic benefits to our cities and towns.
Over two years, we tested approaches to organizing the intentional work that is required to make a positive difference well beyond the borders of any public space.
Goals. Action. Impact.
We identified four equitable impact categories that we recommend park organizations use to organize their work. These categories underpin all the tools and offer a way for you, your partners, and community members to track progress on advancing equity.
Thriving Civic and Cultural Life

Public spaces are hubs for community engagement. Tracking social interaction will help you understand who visits, and who might feel left out and why, increasing your awareness of possible barriers.

Equitable Economic Development

Popular infrastructure reuse sites have had unintended consequences, such as rising rents that threaten to displace neighbors. A commitment to community development should be baked into projects from the start.

Health, Wellness, and Resilience

Spaces for play and physical activity help improve health and wellness in communities. In places with inequities such as high pollution levels or low tree canopy, public spaces must be part of the solution.

Equitable Organizational Growth

Every organization that manages public space has a chance to model equitable labor policies. In addition to external impacts, consider your internal culture too.
Research Partners
High Line Network

A program of the High Line, the Network leads the strategy and management of developing an equitable impacts process and framework. As a strategic hub for infrastructure reuse spaces and their leaders, it coordinates between pilot projects and the technical assistance partners. For more information on the High Line, visit https://www.thehighline.org/

High Line Network Team:

Asima Jansveld

Managing Director

Ana Traverso-Krejcarek

Senior Manager

The High Line. Credit: Iwan Baan

Harvard Graduate School of Design

Harvard graduate researchers in the Urban Design and the Color-Line course were paired with Network organizations to unpack and expand their racial equity agendas. Harvard continues to support the embedding equity pilot with coaching, research, and toolkit development.

Harvard Graduate School of Design Team:

Stephen Gray

Associate Professor of Urban Design

Caroline Filice Smith

PhD Candidate, Urban Designer and Researcher

Laura Greenberg

Urban Designer and Researcher

Anne Lin

Urban Planner and Researcher

Harvard Graduate School of Design. Credit: Stephen Gray

Urban Institute

Urban Institute is a nonprofit research organization in Washington, DC. Building on their implementation study and technical assistance work with the 11th Street Bridge Park, the Urban team led the coaching phase of the embedding equity pilot.

Urban Institute Team:

Mary Bogle

Principal Research Associate

Peter Tatian

Senior Fellow

Mychal Cohen

Research Associate

Sonia Torres Rodríguez

Research Analyst

Jorge Morales-Burnett

Research Assistant

Anne Lin

Community Service Fellow

Olivia Arena

Research Analyst

Urban Institute. Credit: Garrett Rowland
"What I hope the High Line has done is make the impossible possible. The Network helps all of us learn from each other so that our spaces can reach their full potential."
Robert Hammond
Co-founder, Friends of the High Line